Edit My Stuff to Get the Job Done

Business reports, thought leadership,
press releases, advertising executions
GET MORE INFO

Edit My Stuff to Get a Great Job

Existing résumés, LinkedIn profiles,
tailored cover letters
GET MORE INFO

Edit My Stuff to Get Through College

Admission essays, college papers,
doctoral theses
GET MORE INFO
About Us
---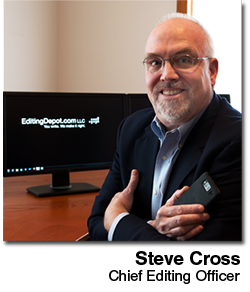 We love to edit, and we'd love to edit for you.
We have a passion for doing one thing exceptionally well: Editing your original work to make it the best it can be.


That's because while you may be excellent at what you do, we're excellent at what we do. We love to edit.


Editing Depot.com LLC is led by Steve Cross, Chief Editing Officer. Steve is an award-winning writer, storyteller and business communicator. He spent seven years as a journalist in New York City and another 30 years as a communications executive with some of the world's largest global brands such as ADP and AT&T, where he served on executive leadership teams. He personally has counseled and written for dozens of CEOs and C-suite executives.


Steve understands the value of clear and simple communications. His work on résumés and LinkedIn profiles has helped clients land jobs at such companies as Amazon, Intel, and more.
In addition, Steve has written hundreds of press releases, thought-leadership essays, and journalistic stories. His consultative editing on college admission essays has helped many families and students, some of whom earned acceptance at up to 90% of the colleges to which they applied.


Steve was twice awarded the prestigious Gold Quill Award by the International Association of Business Communicators, and successfully completed the AT&T Advanced Management Program during his rise to Vice President of Corporate Communications at AT&T.


He went on to serve as Vice President of Corporate Communications at Global Crossing and as a strategic communications consultant at Tyco International during its separation into three publicly traded companies. Steve also spent more than five years in senior communications roles at ADP.


Please click here to see Steve's LinkedIn profile and recommendations from dozens of professionals and clients.
FAQs
---
Q. Will EditingDepot.com LLC create documents for me from scratch?

A. In the areas of business deliverables (press releases, thought leadership essays, etc.) we are happy to create content from scratch or edit your existing content. In the area of deliverables that are part of the college application process, we do not create work from scratch, preferring to edit your original work to make it the best it can be. Please contact us to discuss your requirements!


Q. What editing style do you use?

A. We can edit using any style you prefer. Our default is the widely used Associated Press style. Please let us know if there are alternate styles you would like us to follow when editing your specific project.


Q. How quickly can you deliver?

A. The answer depends on your specific deliverable, but most projects are delivered within 24 hours. Please contact us to discuss your needs!


Q. How and when do I pay for your service?

A. Clients only pay for service upon receipt of all deliverables and after all requested revisions have been completed. Generally, we prefer doing business via PayPal or Venmo as they are safe and convenient. If you have an alternate payment method you prefer, or would like to establish a purchase order and statement of work, please let us know.


Testimonials
---
Bobby Lanigan
Major League Baseball (Former)
"After struggling for weeks trying to tell 'my story' in a resume format, I knew I needed advice. When family members and friends simply couldn't give me the right input, I turned to the professional team at EditingDepot.com. Their work was outstanding. They responded in such a timely fashion that I was able to get the perfect resume to the right people. In just a week, I have witnessed a dramatic increase in return e-mails from potential employers. I can't thank Steve and the team at EditingDepot.com enough. I enthusiastically recommend them!"
Bryan Mahoney
Civil/Structural Design Engineer
"I was having little luck getting interviews or even responses from my original resume, despite a degree in structural and civil engineering. In fact, I was delivering pizza and working the overnight shift at the New York Daily News! I then turned to Steve Cross and EditingDepot.com. They revamped my resume, focused it, and made it much stronger. Within one month, I received three interviews and one job offer, which I took. I love what I'm doing and appreciate all the help and counsel I received from EditingDepot.com!"
Gelsomina Duggan
New York City Educator
"I had been job hunting for nine months but hadn't received any inquiries. I was getting frustrated. I have a great background and great references, so didn't know what to do. My husband suggested I consider having a professional review my resume. He suggested Steve Cross at EditingDepot.com, which he had heard about during a golf outing, so I reached out. Steve contacted me promptly, and was friendly and extremely professional. Within one week, I had my new resume and was on the move. I have received six calls as a result of my new resume, and already have two interviews scheduled. In reviewing my original resume with the one done by EditingDepot.com, I can see why I had no inquiries. A professional resume is an investment in your future! I fully recommend EditingDepot.com! Thank you!"